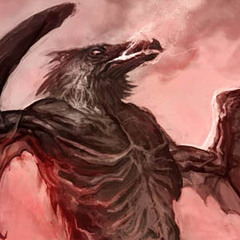 John Bridges
Lead Concept Artist
Atlanta, GA, United States
Summary
John Bridges is a character concept artist for SMITE at Hi-Rez Studios. He also recently worked on Lichdom: Battlemage for Xaviant, and the World of Darkness MMO for CCP Games. His past clients include Wizards of the Coast, Marvel Comics, and White Wolf Game Studio among other entertainment industry companies.
Specialties: Concept art, illustration, storyboards, comps, art direction
Skills
Concept Art
Illustration
Storyboarding
Art Direction
Graphic Design
Digital Painting
Painting
Drawing
UI Design
Comic Art
Character Design
Software proficiency
Experience
Lead Concept Artist at Hi-Rez

Atlanta

Character concept artist for SMITE.

Concept Artist at Xaviant

Atlanta, GA, United States of America

November 2011 - March 2015

Concept art and visual development of characters, creatures, environments, UI elements, and VFX for Lichdom: Battlemage and an unannounced project. I also provided storyboarding for narrative development, and marketing and branding art.

Concept Artist at CCP Games

Atlanta, GA, United States of America

June 2007 - November 2011

Created concept art for characters, creatures and environments for the World of Darkness MMO project; visual development work for style and mood boards; worked with game designers to storyboard gameplay and create animatics; worked closely with animation director on pre-vis art for animation and motion capture; provided visual development and storyboards for an EVE Online expansion; supervised and organized biweekly life drawing sessions for staff artists.

Concept Artist & Illustrator at Red Crow Studio

Atlanta, GA, United States of America

Freelance and contract illustration, storyboarding and concept art from my personal studio. Clients have included: Marvel Comics Group, Hasbro/Wizards of the Coast, White Wolf Game Studio, The Martin Agency, The Stenrich Group, 3DO Company, Chaosium, Inc, FASA Corp. and others.

Art Director at Holistic Design

Atlanta, GA, United States of America

January 1995 - January 2004

Oversaw visual direction and design for the Fading Suns universe line of game products across platforms: print roleplaying games, tabletop miniatures, and PC game development, including Emperor of the Fading Suns (Segasoft) and unshipped Noble Armada (Ripcord); created concept art and illustrations for starships, characters and environments; storyboarding for cut scenes, trailers and animation sequences; lead concept and 2D artist for unshipped Tom Clancy's BioStrike (developed with Red Storm); contributed art direction for Warhammer 40K: Final Liberation, Mall Tycoon, Merchant Prince titles.

Fellow/ Graphic Design Co-Chair at Mythic Imagination Institute

Atlanta, GA, United States of America

January 2003 - January 2007

Provided art direction and graphic design for non-profit arts and education company; member of leadership team and co-chair of the graphics committee for the multidisciplinary Mythic Journeys conference and performance festivals, held in Atlanta in 2004 and 2006.